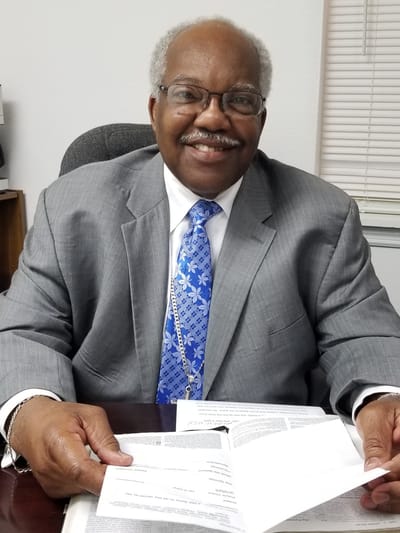 Reverend James L. Houston is the third child born to the late James A. and Juanita G. Houston of the rural town of Lawtey, Florida. He grew up in Lawtey along with his two older sisters (Cotes and Leola both deceased); attended the Public Schools of Bradford County and graduated with honors from the RJE High School of Starke, Florida. He received a Bachelor of Science degree from the School of Business at Florida A & M University, Tallahassee, Florida.

He is a lifelong affiliate of the African Methodist Episcopal Church by way of his father, mother and family. He accepted Christ at the age of twelve and was baptized and became a member of the Mount Zion AME Church, Lawtey, Florida where he served in many capacitates as a child, teen and young adult.

Reverend Houston and Joyce Houston (deceased) are the parents of three children; Sentoria Nicole Houston, Adrianne Denise Williams (Andy); and James L. Houston, Jr. (Naomi); and nine adorable Grand Children (Nickalus and Noah Jones;Trevor, Trenton and Travis Williams; and Jada-Joyce, Leilani, Eva and James L. Houston, III).

After serving as Steward, Trustee, Adult Church School Teacher, Church School Superintendent, New Members Class Teacher/Coordinator, and Choir member Reverend Houston surrendered to the call of God to PREACH the WORD. The response to the call came after 18 years training under the dynamic leadership of the Reverend Dr. James L. Byrd at the New Mt. Zion AME Church, Tallahassee, Florida in May 1996.

Reverend Houston's professional career included working in the areas of Human Resource Management and Operations Management at the University of Florida, Department of Management Services, Florida Department of Labor, and the Agency for Workforce Innovation (Retired 2003). Reverend Houston continues to serve the Tallahassee community by serving as President of the A Life Recovery Center (Drug Treatment Center) Board of Directors.

Reverend Houston has served three previous Florida AME Church congregations: Saint James and Allen Chapel of Live Oak; and Bethel of Lake City. During my pastorate of these churches they all underwent major structure renovations and the rebuilding and uplifting of spirits and lives as many responded to the call of God and were converted, baptized and added to the Kingdom, the AME Church, and the Ministry.

Reverend Houston is now the Pastor of The Bethelonia AMEC ("The Beth") since November 17, 2017. It is yet to be seen what the Lord has in store for "The Beth". However, we know that the Best is Yet to Come!